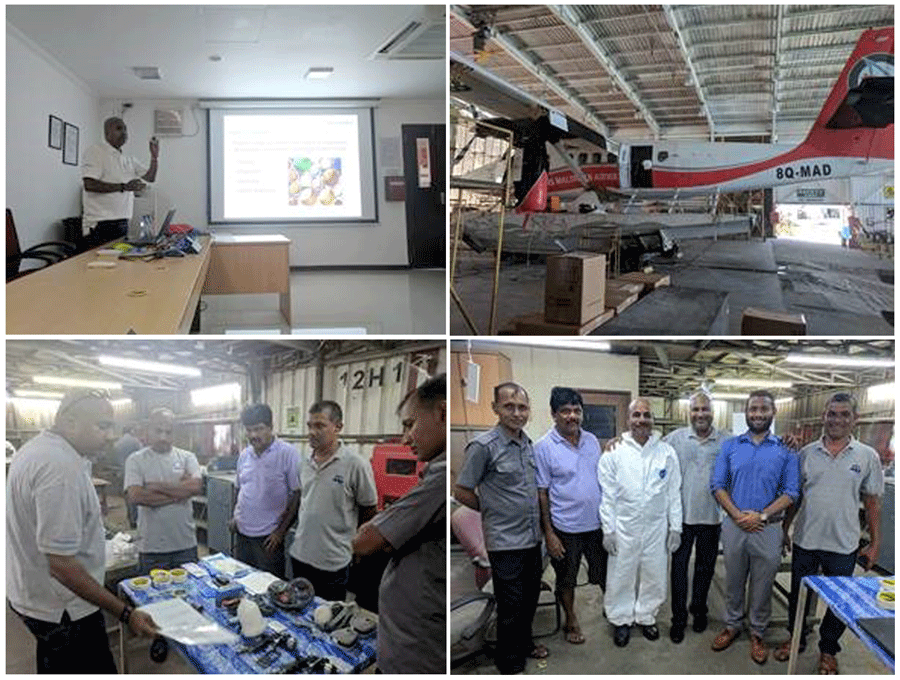 Co-load Maldives conducts training on Akzo Nobel Aerospace Painting Training was given by an expert from AkzoNobel Aerospace – South East Asia    
Male', Maldives: Co-load Maldives organized a two day training program for its longstanding customer TMA on Akzo Nobel Aerospace Painting by an expert from Akzo Nobel Aerospace Coatings, Mr. Regunathan Pillay, Technical Service Manager for South East Asia from 21st till 22nd August 2018 at TMA in Velana International Airport.   The two day training included theory and practical information on Aerospace painting from Health & safety, sanding and masking, Pre-treatment Application, Primer, Base Coat and Clear Coat Applications (Aerodur 3001/ 3002 BC.CC System) Spray Applications & Defects and Dry Film thickness & Glossy measurement of Paint Scheme on Aircraft / Aircraft Components for TMA paint department staffs.   The purpose of this training was to provide additional information on the latest practices and technology used by Akzo Nobel Aerospace Painting to gain highest quali
ty, endurance and performance with environmental, ease-of-application and cost-effective advantages.   Akzo Nobel is the biggest paint company in the world, having developed and supplied innovative coatings products for more than 200 years. Akzo Nobel produce and supply paint and finishes for a wide range of applications and through Akzo Nobel Aerospace Coatings (ANAC), and are a global leader in aircraft coatings.   Co-load Maldives have been the exclusive distributor of Akzo Nobel's world-leading aerospace coating, ANAC to the Maldives since 2008.